12 Restaurants You're Already Eating at that Have Veg Options
Let's admit it, a lot of us used to love eating at fast food restaurants. Of course, now we know a lot more than we used to. We know that fast food is not always healthy.
Some of us might avoid fast food, but some of us may still want or need to visit these places from time to time. Maybe we're with friends who won't be talked out of it, maybe we're on the road and drive-thru's are our only option. Whatever the reason, the big question is: is it possible to eat vegan food at fast food restaurants?
The answer is… yes. More and more fast food restaurants are offering vegan options. Hardly surprising since Americans are eating less meat and looking for more plant-based options. There is even an app called Happy Cow that will help you find vegan options at national chains and fast-food restaurants. Perfect for the busy vegan on the go! Here are 12 vegan options available at your favorite restaurant chains: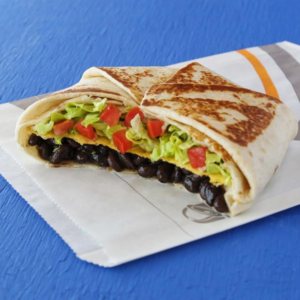 Taco Bell: One of my favorite things about Taco Bell is that pretty much any item on their menu can be modified. You just need to know this life changing hack: make it fresco! You'll still be able to enjoy that 7 Layer Burrito or the Crunchwrap Supreme, but it will come without the cruelty of meat, sour cream, and cheese. Instead, you can load it up with guacamole and replace the meat with potatoes or beans. Taco Bell is also a great option because you can find them all over the country, so you'll never go hungry! 
Denny's: You may not think of Denny's when you think of vegan food, but Denny's serves Amy's burgers as the veggie patty for the Build Your Own Burger. The sesame seed and whole wheat buns are vegan too, as are the fries.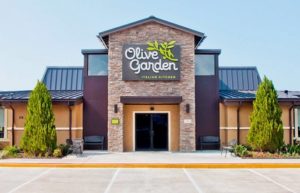 Olive Garden: We have wonderful news Olive Garden fans! The delicious breadsticks so many of us are obsessed with are vegan – just be sure to ask for no butter. You can also eat a proper meal at Olive Garden as several types of pasta can be made vegan. For example, paste with tomato sauce or olive oil and a garden salad with oil and vinegar.
Papa John's: Looking for a quick and inexpensive meal? Papa John's sauce and dough are completely vegan! Just ask for no cheese and load it with lots of veggie toppings. Plant-based deliciousness delivered to your door!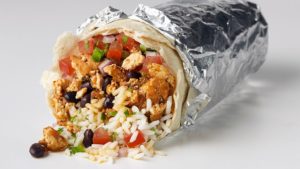 Chipotle: Chipotle offers sofritas, which is organic tofu seasoned with peppers and spices. You can order sofritas in a bowl, burrito, with salad, or in a taco and fill it with delicious vegan fillings such as beans, rice, veggies and salsa. And don't forget the guac!
P.F. Chang's China Bistro: P.F. Chang's has its own vegetarian menu, which can easily be made vegan. One of their most popular items, Buddha's Feast, is a beautiful heaping bowl of baked tofu, asparagus, shiitake mushrooms, broccoli, and carrots, tossed together in a yummy sauce. They also offer an amazing Stir-Fried Eggplant and, if you like it spicy, Ma Po Tofu.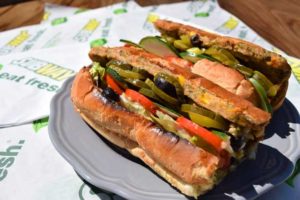 Subway: Who doesn't love customizing their food?! Subway is great because you can easily make a sandwich cutting out cruel meat and dairy and adding veggies and toppings you actually enjoy. Don't like lettuce? Use spinach instead. Love onion? Add extra onion. Like it spicy then ask for jalapenos. Several of their breads and dressings are also vegan.
Pret A Manger: Enter a Pret A Manger and you'll see several refrigerators stocked full of delicious plant-based salads, sandwiches, and soups. The Miso Sweet Potato Bahn Mi and curry spiced Chakalaka Wrap are two of my faves!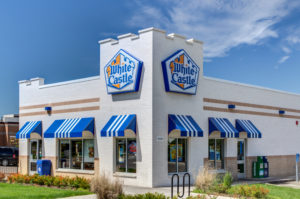 White Castle: White Castle finally has a Veggie Slider, and it's vegan. According to White Castle, they even cook the veggie sliders separately from meat products, so it does not come in contact with them. It can be topped with the sweet Thai sauce that is also vegan.
Yard House: Yard House is a great restaurant chain that offers one of our favorite meat alternative brands – Gardein. While some of the dishes with Gardein may not be entirely vegan (some contain dairy), you can easily modify them. Some of the tastiest options are the Gardein Chick'n and Rice Bowl and the Gardein Orange Peel Chick'n.
Dunkin' Donuts: Dunkin' Donuts offers several bagels that are vegan-friendly. Flavors include Cinnamon Raisin, Everything, Garlic, Onion, Plain, Poppy Seed, Salt, and Sesame. Other vegan items include the oatmeal, hash browns, english muffin, and several of their drinks when ordered with almond milk and no whipped cream.
Carl's Jr: Yes, you're reading that correctly! Fast food chain Carl's Jr. now offers a meat-free version of its iconic Famous Star® build, the BeyondFamous Star® w/ Cheese. The burger can be made 100% vegan by ditching the cheese and swapping out the special sauce and mayo for Sweet & Bold BBQ Sauce.
It's nice to know that so many fast food chains have options that are delicious and cruelty-free!
Share this great news with your friends on Facebook!