Animal Equality Changes Hearts and Minds at Eat Drink Vegan Food Festival
Southern California's annual food and beer festival Eat Drink Vegan, also known as "the vegan Coachella," took place over the weekend in Pasadena. As the event's featured non-profit, Animal Equality's booth was front and center among the curated food and beverage vendors.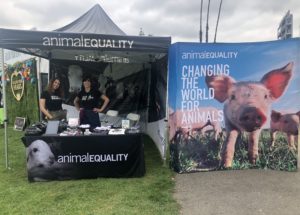 At the event, over a hundred vegans and non-vegans alike stopped by our booth to check out iAnimal, our 360-degree virtual reality experience which shows the user first-hand what life is like for the billions of animals suffering in farms and slaughterhouses. Some visitors were overcome with emotion and others said they'd never seen anything like it.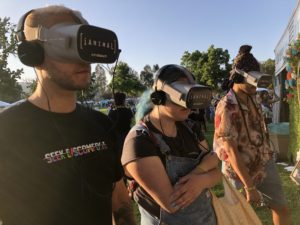 "Honestly one of the hardest things I've ever done and one of the most unique ways to experience what it is like to bear witness inside of the dreadful slaughterhouses. I've seen these videos before, but never this way."
Festivals like Eat Drink Vegan happen across the country throughout the year and are a great way to spread the word about what life is like for animals in the meat and dairy industries. Not to mention, of course, the opportunity to sample the delicious vegan food from vendors you may not have even heard of!
View this post on Instagram
Keep up with us and find out where we'll be next at animalequality.org, and for more information about iAnimal, check out ianimal360.com
Pledge to try veg
Sign up to get great tips and recipes