5 Irresistible Vegan Sandwiches You MUST Try
I am a sucker for sandwiches! Put something tasty between bread and I'll love it. So I thought I would spread the love by sharing some of my favorite sandwich recipes.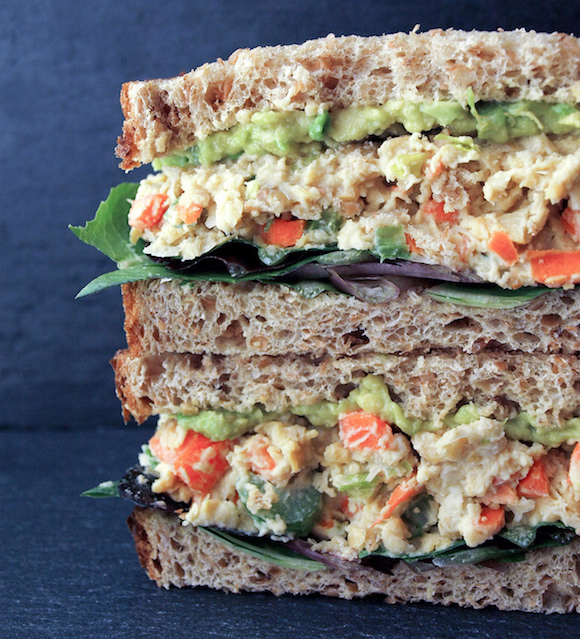 SMASHED CHICKPEA SALAD SANDWICH
Chickpeas (aka garbanzo beans) are incredibly versatile and are packed with fiber, protein and iron. They also help control blood sugar levels and help protect against heart disease and cancer. This recipe proves that healthy eating and happy eating can go hand in hand.
BLUEBERRY GRILLED CHEESE SANDWICH
Ok, I know this may sound strange but I also know that after one bite you'll be hooked! This sandwich satisfies all cravings – sweet, savory, and the better kind of carbs! And if you're a little lazy like me skip the cheese-making and buy an awesome brand like Follow Your Heart or Field Roast.
I can't believe I went so long through life without trying a Bahn Mi. There is a reason this sandwich is a classic! This Vietnamese crowd pleaser is easy to recreate without the meat and is much healthier that way, too! I cut my tofu pretty thin to get that nicely seared texture.
6 INGREDIENT PULLED JACKFRUIT (SANDWICH)
Being from Texas, I grew up eating BBQ and very meat heavy sandwiches so this recipe brings me back. All of the flavor and none of the cruelty! And this recipe calls for jackfruit, which is great for absorbing whatever flavors you're going for.
VEGAN BLT
Having a vegan version of a BLT is a must! The liquid smoke is key to this tofu "bacon" and the flavor pairs so well with the fresh tomato and lettuce. Make sure to press the tofu after slicing to get as much water out as possible. I recommend using Follow Your Heart's Vegenaise and Dave's Killer Bread. It's simply delicious!