How to Order Vegan at Pizza Hut
Switching to a plant-based diet is the best thing you can do for animals, the planet, and your health. Ditching animal products can seem daunting at first, especially if you don't live near a lot of all-vegan restaurants. But don't worry! With a few minor adjustments, you can eat vegan just about anywhere — even at pizza chains.
Here's our guide to ordering vegan at Pizza Hut:
PIZZA
Crust: Choose from Hand Tossed, Original Pan, or Thin 'N Crispy
Crust Flavors: Choose between plain or Buttery Blend (don't worry! This is not actually butter, and it's dairy-free! 😉)
Sauce: Classic Marinara, or Buffalo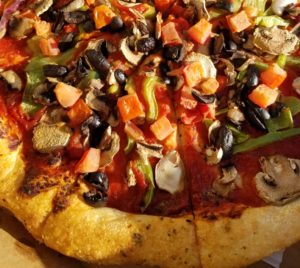 Toppings: We highly recommend choosing the Veggie Lover's pizza or building your own pie and loading up on the veggie toppings. Pizza Hut offers, Roma tomatoes, mushrooms, red onions, green bell peppers, green chile peppers, green olives, Mediterranean black olives, roasted spinach, banana peppers, jalapeño peppers, and sweet pineapple. 
Drizzles: Add barbecue drizzle or buffalo drizzle to the top of your pizza for an extra kick of flavor. 
SIDES
Dipping Sauce: Just like the Drizzles, but on the side. Order a buffalo dipping sauce cup if your crust needs a friend.
WingStreet Fries: French fries go great with pizza (or on top of pizza. Don't @ me!)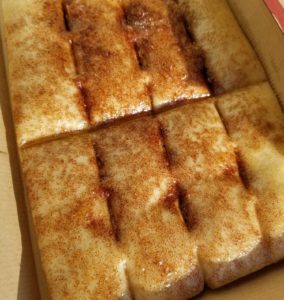 DESSERTS
Cinnamon Sticks: These warm and sweet cinnamon sticks are 100% vegan and 100% full of flavor. Just be sure to ask for them without the frosting cup!
PRO TIP
Follow our guide and your Pizza Hut pizza will taste so good that you'll wonder why pizza ever needed cheese in the first place! Pizza Hut in the United States doesn't offer vegan cheese unfortunately, but if you're really craving that cheesy flavor, we recommend sprinkling nutritional yeast on top or adding a plant-based cheese to your pie (try Daiya shreds) and then putting it in your oven for a few minutes until the shreds get melty. Enjoy!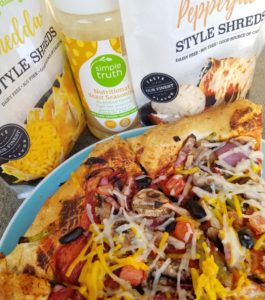 ***
This guide to ordering vegan at Pizza Hut is just an example of how you can easily veganize restaurant menus anywhere. For more tips and restaurant options, check out our guide to dining out! 
*This article was published in July, 2019. Menu items and ingredients are subject to change. 
Pledge to try veg
Sign up to get great tips and recipes