Our 3 Favorite Jackfruit Recipes!
Jackfruit is all the craze these days with its meaty texture and ability to soak up lots of flavor. From sandwiches to tacos, this magical fruit can do it all. Check out our top 3 jackfruit recipes!
Note: Yes, some places sell whole jackfruits, but the easiest thing to do is get a can of jackfruit (in water or brine, not syrup), drain, rise, and pull apart with your fingers.
Spicy Jackfruit Tacos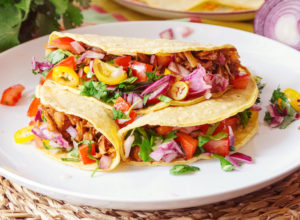 Jackfruit makes for an excellent substitute for a meat-free taco filling. It's carnitas-like texture combined with the right spices can please any taco lover.
Ingredients
2

 

20-ounce

 

cans jackfruit in water or brine

 

(NOT in syrup)

2

 

Tbsp

 

avocado or coconut oil

 

(if avoiding oil, sub water)

1/2

 

large

 

white or yellow onion

 

(thinly sliced)

4

 

cloves

 

garlic

 

(minced)

1/2

 

tsp

 

sea salt

1

 

Tbsp

 

ground smoked paprika

1

 

Tbsp

 

ground cumin

1

 

Tbsp

 

chili powder

2-3

 

Tbsp

 

coconut sugar

 

(or maple syrup or organic brown sugar)

1-2

 

small

 

chipotle peppers in adobo sauce

 

(from a can // roughly chopped)

3

 

tsp

 

adobo sauce

 

(use more or less to preferred spice level)

1-2 Tbsp tamari or soy sauce

2/3

 

cup

 

water

 

(plus more as needed)

3

 

Tbsp

 

lime juice
Instructions
Thoroughly rinse and drain jackfruit. Then begin sorting. The pieces come in chunks or triangle shapes. Cut off the center "core" portion of the jackfruit that's tougher in texture and separate it from the rest of the fruit. Then chop into smaller pieces. For the remaining portion of the jackfruit that appears more stringy, use your hands to pull into small shredded pieces. You're basically trying to get the jackfruit into small, shredded/chopped pieces. Rinse the jackfruit once more in a colander, drain, and thoroughly dry.

Heat a large skillet over medium heat. Once hot, add oil of choice, onion, and garlic. Sauté for 4-5 minutes or until onions are golden brown and softened.

Add jackfruit, salt, paprika, cumin, chili powder, coconut sugar (starting with 2 Tbsp // or less if making a smaller batch), chipotle peppers and their adobo sauce (starting with 1 pepper and working your way up), coconut aminos, water, and lime juice. Stir to coat and reduce heat to low – medium. Cover and cook for about 20 minutes, stirring occasionally.

For finer texture, as your jackfruit is cooking, use your spoon to mash the jackfruit into smaller pieces, or use two forks to shred the jackfruit as it cooks down. This will create a more realistic "meat-like" texture.

Once the jackfruit has been properly simmered, taste and adjust flavor as needed, adding more paprika or cumin for smokiness, chili powder for heat, chipotle pepper or adobo sauce for spice, coconut sugar or maple syrup for sweetness, coconut aminos for saltiness / depth of flavor, or lime for acidity.

Turn up heat to medium-high and cook for 2-3 more minutes to get a little extra color/texture. Then remove from heat.

Enjoy as is, on top of salads or nachos, or in enchiladas, burritos, tacos! We prefer corn tortillas, refried black beans, jackfruit, cabbage, cilantro, and hot sauce!

Store leftover jackfruit up to 4-5 days in the refrigerator or 1 month in the freezer. To reheat, heat on a skillet until hot and moisten with more water if it appears dry.
Recipe from minimalistbaker.com
BBQ Jackfruit Sandwich

If you didn't already know, I'm a sucker for sandwiches. And this bad boy is THE sandwich to make when trying to please your tastebuds OR your skeptical non-vegan friend. It's only 6 ingredients to make the jackfruit and oh so satisfying.
Ingredients
2

 

20oz cans

 young green jackfruit, 

in brine or water (not in syrup!)

1

 

tablespoon

 

olive oil

1/2

 

yellow onion,

 

sliced

3

 

cloves

 

garlic,

 

minced

1/4

 

cup

 

vegetable broth or water

3/4

 

cup

 

BBQ sauce
Instructions
Preheat your oven to 400F (200C). Lightly grease a baking pan.

Drain and rinse the jackfruit. Cut the jackfruit into smaller pieces by cutting it from core to the edge for the most pulled texture.

Add the olive oil to a large frying pan or skillet over medium-high heat, and when hot add the onions and garlic. Sauté until the onions are tender and beginning to brown, about 5 minutes. Add in the chopped jackfruit and vegetable broth. Cover and continue to cook another 8 to 10 minutes, until the jackfruit is soft enough that it can be mashed. Mash the jackfruit with potato masher, until it breaks apart and looks pulled or shredded.

To finish the jackfruit spread in an even layer across the baking pan and then pop it in the oven for 15 minutes. Remove from oven and pour over 1/2 cup BBQ sauce and stir to combine. Toss it back in the oven for about 10 minutes, until it looks delicious and golden and even a few strands get a bit burnt. Remove from the oven and if desired stir in the remaining 1/4 cup of BBQ sauce to make it even saucier.

Pop this between a toasted bun and add some vegan coleslaw and go to town!
Recipe from ItDoesn'tTasteLikeChicken.com
Jackfruit Tuna-Less Salad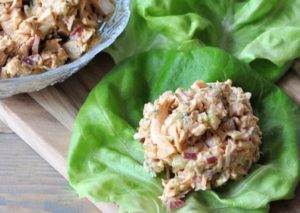 Even better than the real thing! Put this in a sandwich, eat with crackers, or just out of the bowl.
Ingredients
1

 

14 oz can of young jackfruit (in water, not brine)

1

 

stalk of celery

 

finely chopped

1

 

small red onion,

 finely chopped

1

 

heaping tbsp.

 fresh chopped parsley leaves

3

 

tbsp

 Dijon mustard

2

 

tbsp

 unsweetened plain plant-based yogurt (I used Kite Hill almond)

½

 

tsp

 

paprika

Ground sea salt and pepper to taste
Instructions
Drain and rinse the jackfruit and pulse in a food processor until it's shredded and resembles canned tuna. If you don't have a food processor you can chop it with a knife.

Put the jackfruit in a medium mixing bowl and add the celery, onion, parsley mustard, yogurt, paprika, and salt and pepper and stir until it's fully combined.

Serve as is or as a sandwich.