Craving Vegan Mexican Food? Love Veg in Mexico Has You Covered.
Discover the rise of Love Veg in Mexico, which has captivated over a million people with its flavorful recipes. You'll even bring the action to your kitchen by combining wholesome, compassionate ingredients with Mexico's unique flavors.
When it comes to inspiring people to choose delicious and accessible plant-based foods, perhaps no one matches the passion of Katya Ramírez.
Katya, Animal Equality Educational Programs Coordinator in Mexico, drives the country's successful plant-based campaign. Known as Love Veg, the campaign publishes plant-based cookbooks, provides tips for plant-based beginners, and trains university students and soon-to-be chefs to cook delicious and compassionate meals. 
Since the beginning of the year, Love Veg in Mexico has attracted 145,000 subscribers and over half a million unique visitors. It has published over 400 original recipes on its website and has released twelve recipe books since 2016. Almost 700,000 people have downloaded the cookbooks. 
Thank you for the excellent information. [The resources] are very interesting and are creating a change of habits that are much healthier for me and for the planet. – Claudia, Love Veg Mexico subscriber
"Love Veg in Mexico began as a project to help animals by helping people," Katya shares. "Over time, it has become a powerful tool for transitioning towards plant-based alternatives. Today, we can offer our readers and subscribers the possibility of eating what they like without the cruelty." 
She notes that Love Veg's current range of recipes taps into Mexico's rich culinary heritage while still relying on plants. Nothing illustrates this as clearly as the Patriotic Recipe Book. This book includes delicious recipes for flautas (rolled tacos), enchiladas (stuffed corn tortillas covered in a savory sauce), and all the plantains (cooking bananas) one's heart could desire. 
"The goal has always been to make Mexican food vegan," Katya says. "And because the content is free, everyone can benefit from it. These versions of dishes are cheaper, healthier, and delicious."
Katya shares that Mexican subscribers are increasingly open to learning about cruelty-free alternatives. "I also believe that the Latino people are compassionate and supportive," she expresses. "We just need to bring them the information so they can join in and help the animals."
Thank you for your recipes! They are delicious and, above all, they don't use any animals. [With these recipes] we can end the consumption of meat. – Maria, Love Veg Mexico subscriber
Love Veg in Mexico is the product of one woman's vision. Katya spends much of her time creating new recipes, shopping for ingredients, photographing her dishes, and regularly updating the website with the latest resources. She even encourages volunteers and Animal Equality team members to launch Love Veg in their countries.
When asked how long she's been coordinating the Love Veg movement in Mexico, Katya responds with a chuckle, "Since the beginning of time." When she began in 2015, Animal Equality's plant-based program was known by a different name. 
In 2018, the program was rebranded Love Veg. It now focuses exclusively on empowering Mexicans and other Latin Americans to switch to compassionate alternatives. More than one million people have joined the movement since. 
"When Love Veg arrived, it gave readers that 'how' of transitioning to plant-based proteins," Katya states. When asked why the program launched so successfully, she adds, "We have free and unlimited content!" 
While plant-based cookbooks and a successful blog are the foundations of Love Veg in Mexico, Katya's work extends much further. In addition to publishing a magazine called Makes a Difference, she often travels to universities. Here, she teaches college students about plant-based nutrition. 
She notes that today's universities have begun understanding how urgent plant-based education is. This makes university outreach one of her job's most exciting and fulfilling aspects. 
Primary schools and community centers have also been fertile ground for Katya's plant-based courses. 
As for Katya herself, coordinating the Love Veg program has led to fulfillment and personal growth. Her impact on animals through Love Veg has surprised her, but her work is never done. Each day, she tries to be more effective and strategic than the day before. 
"Over the years, I have learned a lot from people when it comes to food choices. I have applied that learning to every campaign, which is why our cookbooks are so well-received by our audience." She continues, "We allow them to prepare food that represents them, with all the flavor, smell, and textures found in our gastronomy but without ingredients of animal origin."
Katya hopes each subscriber will share this new information with friends and family. "The greatest satisfaction is getting people to take animals off their plates through our campaigns," she explains. "I hope they keep this decision for the rest of their lives and pass on this knowledge wherever they go."
In addition to Mexico, the Love Veg movement reaches all corners of the globe. From Germany to India and Italy to the U.S., people worldwide are leveling up their culinary skills and protecting animals at every meal. 
Whether spaghetti bolognese or mac and cheese, Love Veg in the U.S. has all the fan favorites. Many people are even discovering plant-based options at their favorite restaurant chains. Others have found budget-friendly ingredients for their pantries. 
Still, Katya's work in Mexico is an example to all animal defenders. Anything can be accomplished with consistent outreach, compassion for animals, and a passion for food.
Embrace the Flavors of Mexico!
Turn your kitchen into an authentic taco shop with these tofu tacos al pastor, and enjoy eating like never before!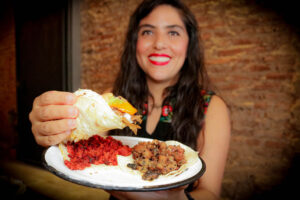 Preparation Time: 20 mins Serves: 2 people
Ingredients
1 block of extra firm tofu

2 tbsp. of paprika

1/2 tbsp. ground white pepper (if you don't have white, use black)

1/2 tbsp. garlic powder

1/2 tbsp. onion powder

1/2 tbsp. of salt

1 tsp. cumin powder

1 tsp. clove powder

4 tbsp. vegetable oil

2 tbsp. soy sauce

Tortillas

Chopped cilantro,

onions, lemons and hot sauce to top your tacos
Preparation
Take the tofu out of the packaging and let it drain. Crumble the tofu in a bowl with a fork.
In a bowl, mix all the ingredients except the tofu.
Pour this mixture over the crumbled tofu and mix well (avoid overmixing).
Place the tofu in the oven and bake at 350ºF for 10 minutes to create a crunchy vegan chorizo.
Alternate preparation method: To prepare on the stove, first put the spiced tofu in the refrigerator for about 15 minutes. After refrigerating it, cook in a nonstick pan until you get a chorizo ​​consistency.
Heat the tortillas and assemble your tacos with your favorite toppings. Katya recommends trying your tacos with chopped cilantro, onion, hot sauce, and a few drops of lemon.