Eating out
The number of vegetarian and vegan restaurants are increasing rapidly, making it easier and easier for people that want to reduce their meat consumption or follow a plant-based diet to find veg food. On Happy Cow you can find shops, takeout options or restaurants with meat-free and plant-based options in your local area. There's also an app.
Other apps like Tripadvisor or Vegman will also help you to quickly discover veg-friendly restaurants nearby. They also indicate the price range and share customer ratings to help you make a choice.
Vegan restaurants like Veggie Grill, Loving Hut, Native Foods, Real Food Daily, Beyond Sushi and others are popping up in cities across the US. Additionally, more and more restaurants and fast food chains offer plant-based options on their menu. In the US, restaurant chains like Chipotle, Cheesecake Factory, Taco Bell, Subway and Noodles & Company have plenty of veg options for you to explore. Here are some of our top recommendations…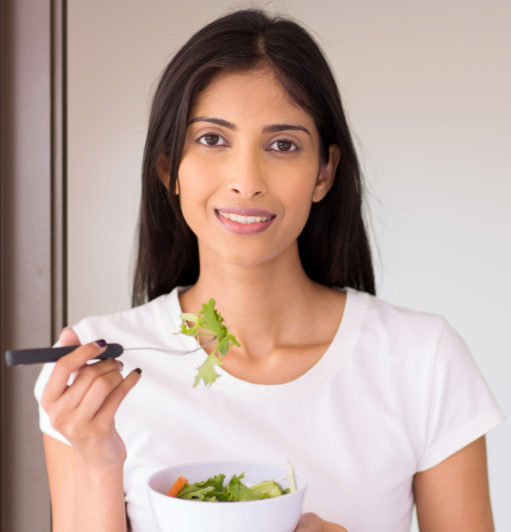 Your favorite restaurant still doesn't offer many vegetarian or vegan options? Politely ask the server what the chef could create for you. Restaurants want satisfied customers and most will happily take on this challenge!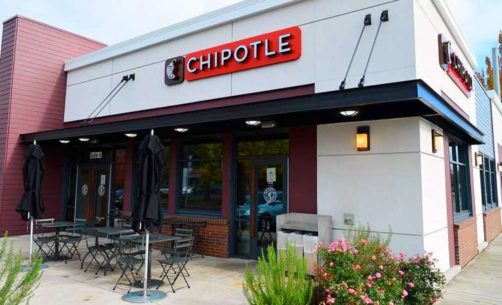 Chipotle
Chipotle has a website feature that enables you to "eat to your own beat". Choose a Chipotle Burrito with sofritas, for example.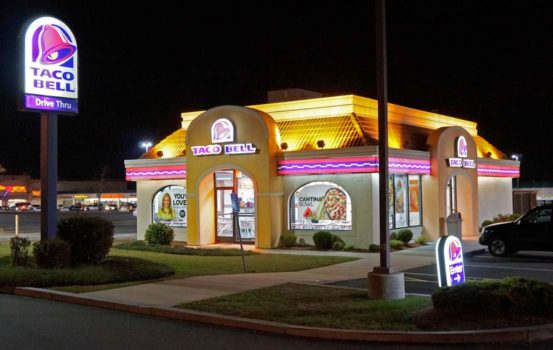 Taco Bell
Order the Taco Salad substituting beef for beans and ditch the sour cream and cheese. You could also order the Bean or Black Bean Burrito without cheese. If you say, "Fresco Style", they will remove the cheese and sauce and replace it with pico de gallo. And Taco Bell's Cinnamon Twists are vegan too! Here's their guide.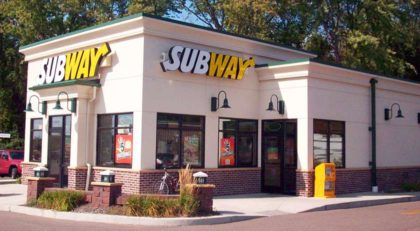 Subway
Grab the Veggie Delight Salad or build a sandwich with shredded lettuce, tomatoes, green peppers, red onions, cucumbers, spinach, olives, pickles and jalapeños. Add guacamole or avocado too!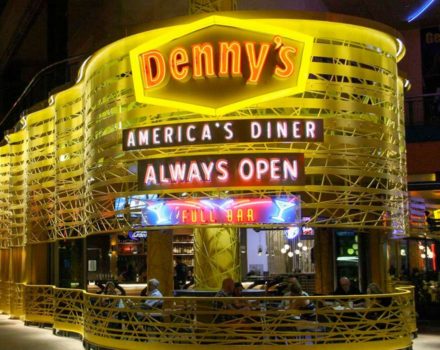 Denny's
Serves a vegan burger for the Build Your Own Burger. Try it with fries or salad on the side!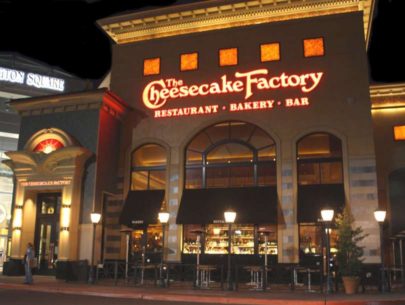 Cheesecake Factory
Has plenty of vegan options including a veggie burger, a vegan cobb salad. There is also a kale and quinoa salad with red pepper, grapes, and sunflower seeds served with lemon vinaigrette, among other options, just hold the parmesan!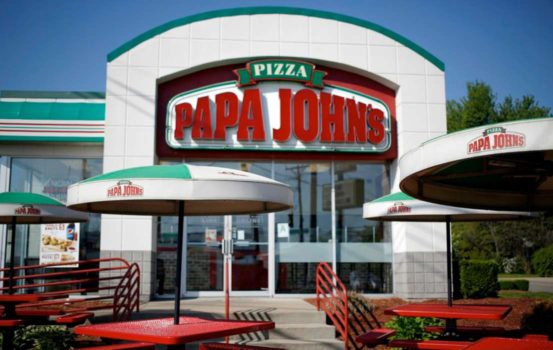 Little Caesars, Papa John's, Domino's and Pizza Hut
All have veg options, simply omit the cheese and choose your favorite vegetable toppings!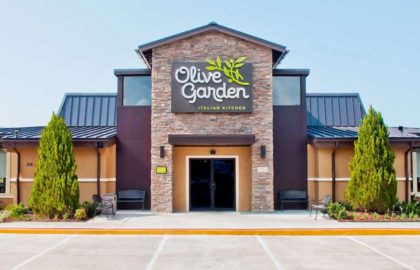 Olive Garden
Top your salad with oil and vinegar and choose your pasta with tomato sauce and a blend of fresh veggies.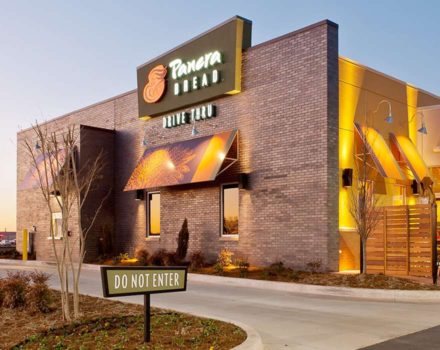 Panera
Panera has some vegan options. Try the Greek Salad without cheese or the Classic Cafe Salad. For dressings choose the Greek Dressing or the Low Fat Thai Chili Vinaigrette.
In traditional international cuisine plant-based options are almost always offered. Would you have thought that these yummy dishes just happen to be plant-based anyway?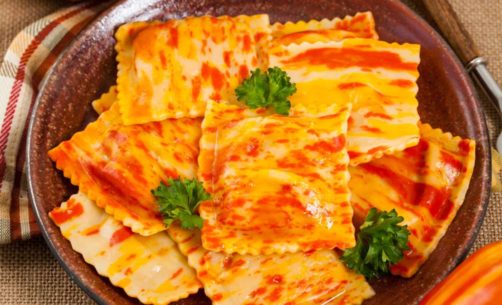 Italian
Pasta (Pomodoro, Arrabiata, Napoli…), Minestrone (vegetable soup), vegetarian pizza without cheese, salads…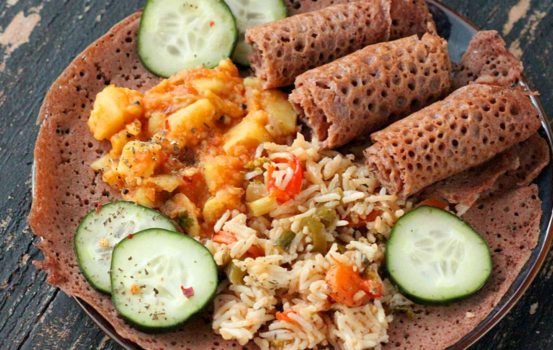 Ethiopian
Injera (similar to a Crêpe or flat bread) with immered greens, spicy lentils, or stewed chickpeas…
Asian
Vegetable Chop-Suey, vegetarian Thai-Curries, vegetarian spring and summer rolls, miso soup (soup made of paste from soybeans, seaweed and tofu)…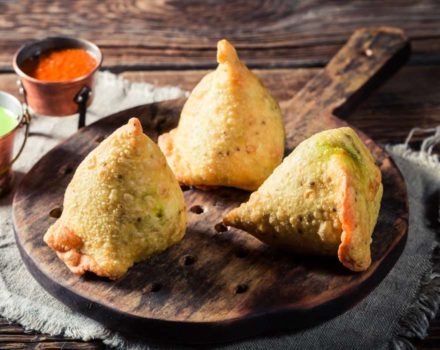 Indian
Samosas (filled dumplings), vegetarian curries (just ask for no stock or dairy to be used), chutney, dhal (lentil dish), chapati…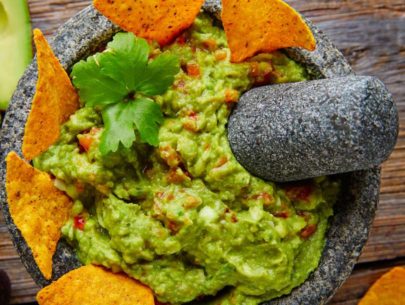 Mexican
Vegetarian tortillas, pozole (corn stew), guacamole, vegetables, mixed bean chili, salsa…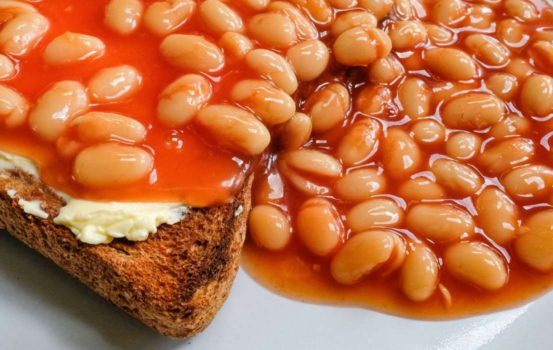 British
Breakfast favorites like baked beans, marmite or marmalade on toast, hash browns, grilled mushrooms, tomatoes, fried bread, and more…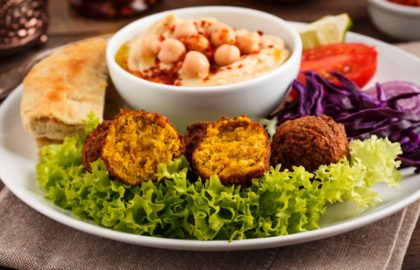 Middle Eastern
Couscous salads, falafel with hummus, tabouleh, pita…
If you're invited to a family gathering or birthday party, you may want to talk to the hosts about your eating requirements before arriving. That way you can make sure that there's something nourishing and delicious for you to eat. Offer to bring your own dish to help out with this. This also gives you the opportunity to inspire other guests with one of your favorite plant-based recipes!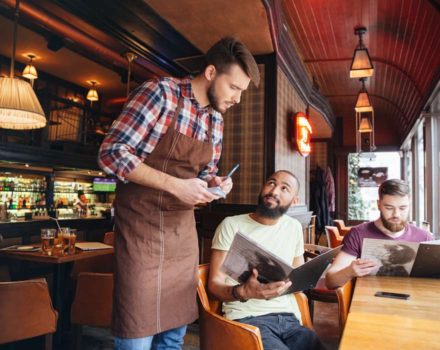 A good way to help increase the availability of plant-based options is to politely ask for them. Many establishments are very receptive so go ahead and encourage new menu items!